Winter Coats And Car Seat Safety
December 21st officially marks the first day of the winter season, but depending on where you live, you may have already experienced the chilly weather that comes with the changing seasons. When the temperature outside decreases, parents often worry about keeping their little ones warm while commuting in the car to and from child care Greenville NC, or while out running errands. Most people do not realize the dangerous combination of wearing a bulky winter jacket and car seats. Sure, you want your children warm and snuggly at all times, but it isn't worth risking their lives in the event of a car accident. Children's World Learning Center, top-rated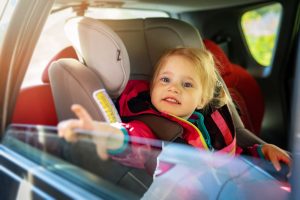 child care Greenville NC, is here to share how to test your child's car seat safety while wearing a winter coat, as well as other appropriate ways to keep your children safe and warm while riding in their car seats.
Steps To Check For Car Seat Safety In A Winter Coat:
Put your child in the winter coat of your choice and zip it up all the way. 

Place the child on their car seat and harness them in like normal. Tighten the harness until you can no longer pinch any of the harness webbings with your thumb and forefinger. 

Without loosening the harness, unbuckle, and remove your child from the car seat.

Take the coat off and put your child back in the car seat, then buckle the harness straps which are still adjusted as they were when he/she was wearing the coat.

If you can now pinch the webbing between your thumb and forefinger then the coat is too bulky to be worn under the harness.
In the event of a crash, all the material of a bulky winter coat or other bundling products underneath the harness will compress, making the straps too loose on the child. When the harness straps are not snug on the child's body, they don't do their job of helping the child come to a gentle stop during a crash. Many puffy coats and snowsuits can leave up to 4 inches of slack in the straps, leaving enough room for the child to slip out of the straps completely if a sudden stop occurs.
Tips For Car Seat Safety When It's Cold
Dress your child in multiple thin layers of clothing, like close-fitting tights, leggings, or long underwear. Each layer holds in warm air.

Next, put them in pants and a shirt or sweater that isn't bulky. YOu can also add a hat, mittens, and warm socks or booties to keep their head, hands, and feet warm – These won't interfere with the snugness of the straps.

Warm-up your vehicle before you plan to leave – allow enough time for your vehicle to defrost and warm up so that a coat is not needed once inside the car. 

If your child wears a coat to the car, make sure it is removed before buckling them into their car seat. 

When they are securely in the car seat, you can add a blanket on top of them to keep them warm, or if they are able to, put their winter coat on them backward, so they can stick their arms in the armholes for added warmth. Just make sure nothing is behind their back in the car seat, and that they are properly harnessed in with nothing extra in between the harness and their body.

Once you arrive at

Children's World Learning Center

, top-rated

child care Greenville NC

, your child can then put their coat on to walk inside.