Traveling with Young Ones
Traveling with a toddler can be a huge challenge, especially if you have a long drive ahead of you. The young ones need entertainment and attention, but providing it is nearly impossible when you have to keep your eyes on the road. These tips should help you survive that long trip ahead: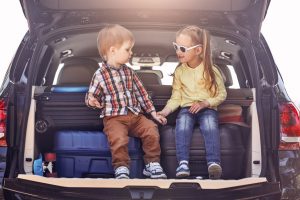 Separation
If you are traveling with more than one kid, it is a good idea to keep them as far apart as possible. This will help prevent bickering and unwanted poking and prodding among the two (or three, or more)! Another idea is to join the kids in the backseat. You can interact with them while your partner drives and keep them occupied. If you are the only adult driving with multiple children, keep them sitting as far away from each other as possible.
Night Drive
This is a last resort option, but it can prove to be worth it. Of course, do not do so if you are not comfortable driving at night, but if you are well-rested and have a partner that will switch off driving shifts, it is worth considering. There is usually much less traffic so you will arrive at your destination quicker, and you will take fewer pit stops for the kids because they will usually sleep through the drive.
Itinerary
Plan the itinerary for your trip with the kids in mind. If you have a really long drive ahead, leave very early in the morning. Wake the kids just before leaving, make sure they use the restroom, and then leave immediately. They will likely sleep more in the car or take some time to properly wake up. If you are on a road trip, try not to plan any stops during nap time.
Stretch Time
Sitting in the car for a long time isn't fun for anyone, but it is especially hard for toddlers. Try to plan for a few short stops along the way for the kids to stretch and get some energy out. A park or playground are good options.
Snacks
Always take snacks when traveling with young children. This will save you from having to stop and buy chips and other unhealthy snacks at gas stations. Avoid snacks with sugar as they will only give the kids more energy while they are stuck in the car. Pack fruit that isn't too messy, like apples or grapes. Raw veggies like carrots or sliced cucumbers are another great option.
Children's World
At Children's World Learning Center, we know that the early years of life matter because early experiences affect the brain. As a child's brain grows, the quality of the experiences that a child has creates either a sturdy or fragile foundation for all of the development and behaviors that follow. Parents want to make educated choices for their families, and getting things right the first time is better than trying to fix them later.
Scientific research has shown that the most important components of a high-quality program are the educational levels of staff and the activities that occur on a daily basis with children. That's why here at Children's World Learning Center, we strive to deliver the highest quality childcare in Greenville NC. Contact Us Today!