Toddler Water Safety
Whether it is the pool, beach, lake, or even a pond in your neighborhood, water safety is important for all ages, especially toddlers. Children's World Learning Center's demographic of children, ages one to four, tend to have a higher drowning risk than any other age group. Toddlers can drown in as little an inch or two of water. Preventing unintended, unsupervised access to water is proven to be one of the most effective ways to reduce drowning among young children.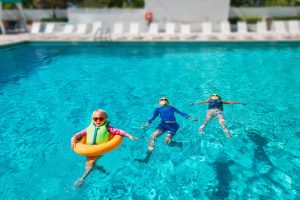 Swim Lessons
The American Academy of Pediatrics (AAP) recommends swim lessons for all children, as recent studies have shown water survival skills training and swim lessons can help reduce drowning risk for all children including those 1 to 4 years. When introducing your child to the water, it is best to opt for parent-toddler swim lessons that teach water safety habits and swim readiness skills. Most children are ready for swim lessons that teach basic water survival skills such as floating, treading water, and getting to an exit point by the age of 4. 
Protection and Supervision
Children's World Learning Center recommends children to always wear a life jacket near or in any body of water. It is important to make sure the life jacket fits properly, according to the US Coast Guard regulation. Make sure the life jacket is not loose and all the straps are belted as instructed. Supervision should be used at all times around water. The AAP recommends staying within arm's length, providing constant "touch supervision," whether it's bath time or swim time. Most child drownings inside the home occur in bathtubs, usually during a lapse in adult supervision. Aside from the bathtub, it is best to be in the water with a toddler and if you need to get out, take your child with you, even if lifeguards are present.
Keep on Watching
The Consumer Product Safety Commission found that 69% of children under the age of 5 years were not expected to be in the water at the time of the drowning. Therefore it is important to note that swim lessons are not foolproof, but instead one of several important parts of protections needed to help prevent drowning. Children's World Learning Center recommends constant and focused supervision of children near or in any body of water. When a pool is not being used, block access to prevent any accidents. 
Children's World
At Children's World Learning Center, we prioritize and value your child's safety. Supervision is taken very seriously outside of the water at Children's World Learning Center. The early years of life matter because early experiences affect the brain. We strive to educate children on safety skills throughout the entire year so you can have peace of mind. Contact us today!