Teacher Appreciation For Child Care Jobs Greenville NC
Each year, Teacher Appreciation Week is nationally observed from the first Monday through Friday of May. Those special humans that choose child care jobs Greenville NC as their profession are a huge part of your kid's lives since they are with them and care for them daily. Though it is not at all mandatory, it is nice to show your appreciation to your child's teachers and caretakers during this time. Heartfelt gifts mean a lot to educators, especially when they are homemade and personalized by you and your child. If you are still unsure about where to start when showing your child's teacher your appreciation, here are a few simple gift ideas to give you a little inspiration to show your thanks for those working in child care jobs Greenville NC.
Breakfast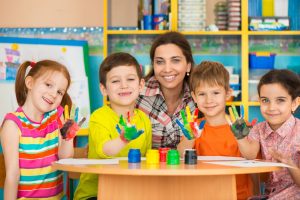 You can never go wrong with providing breakfast, or any meal for that matter, for your child's teacher.  Whether homemade or bought from a local business, food, snacks, coffee, and treats are always favorable.
Stock Them Up On Supplies
Classroom supplies are another go-to gift option that teachers love to receive. Hand sanitizer, especially these days, is one item that teachers can never have enough of. Stickers, writing utensils, games, and books are also affordable options that your teachers will appreciate and your kids will benefit from.
Gifts That Encourage Self-Care
Create a little basket or goody bag of a few self-care items. Fingernailpolish, lotion, or face peel masks are great items for those who work in child care jobs Greenville NC to treat themselves after a long day at daycare. 
Make It Homemade
If spending money on gifts isn't the way you want to go, you and your child can always go the homemade route. Whether it's freshly baked cookies, an artistic thank you card, or a popsicle stick picture frame for their class photo, your child's teacher will love it. Personalized and homemade gifts are affordable, fun to create, and made with love, making those who have child care jobs Greenville NC feel appreciated for all that they do for you and your family.
Give The Gift Of Gift Cards 
If time does not allow you to search for the perfect gift or make something homemade, you can never go wrong with giving a gift card. Choose between their favorite restaurant or coffee shop, a local spa or nail salon, or simply a generic gift card that can be used anywhere, to show your teachers your appreciation.