Spook-Tastic Safety Tips for a Happy Halloween
As September comes to a close, it's the perfect time to start thinking about Halloween costumes and decorating. Children's World, a Greenville child care center, wants to make sure you and your kids are safe while enjoying the festivities! Here are some tips to keep in mind when getting ready, trick-or-treating, and as the night comes to an end.
Choosing Costumes
When you and your child looking for that epic costume that will have your child grinning from ear to ear, here's a few things to keep in mind: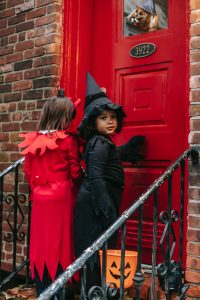 Make sure you buy or make a fire-retardant costume or fireproof it before leaving the house. Nylon and polyester are great fabrics to use!
Ensure your kids' eyes are uncovered and they can see and breathe well.
Put a name tag on or in their costume somewhere with their name and your phone number on it, in case they get lost.
Ensure proper movement in the costume (i.e. your kids can walk properly and aren't restricted by their costumes or shoes).
Make sure any props your kids are carrying are short, flexible, and blatantly fake.
Put reflective tape on their costumes or give them glow sticks to wear and put on their candy bags.
Tips for Safe Trick-or-Treating
While walking around, kids and adults should:
Carry a cell phone and know how to call 911
Kids under 12 should be accompanied by a responsible guardian
Have an emergency contact or number to call just in case
Stick to a route and tell a trustworthy adult where they plan on going
Go in a group and stay together
Only go to houses with the porch lights on
Never go into stranger's houses or cars
Stay on lit streets and in neighborhoods that are known
Use a flashlight and put fresh batteries in it before leaving the house
You could also ask your local Greenville child care center, like Children's World, to help you decide on costumes, safe routes and neighborhoods to trick-or-treat, and more safety tips!
For Those Passing Out Candy
Even if you aren't walking around or getting candy, there are ways that you can keep kids and families safe.
Clear any debris or decorations from the walkways to avoid tripping.
Keep your lights on, especially on your porch and outside your home.
Keep family pets away from children, even if they are nice. Some kids and families are allergic or don't like animals.
Pass out things other than candy, such as pencils, small toys, coloring books, raisins, and crayons for those kids who would like allergen-free options. Keep these things separated to avoid cross-contamination.
Put a sign up that says you offer allergen-free options so kids and families know that you have other options that aren't candy or food.
If you see anything suspicious, call 911 and alert the authorities.
When The Night Ends
When the kids get home for trick-or-treating, sort out the kids' candy and throw away any candy that's been opened, torn, or that has holes in the packaging. Most fire or police stations can inspect candy for you and dispose of it properly as well if you have any concerns. You should also keep the candy in a common area so you can monitor candy consumption and minimize pests.
Children's World | Greenville, NC
Children's World is a Greenville child care center that is dedicated to teaching and guiding children. From infants to after-school and summer programs, we have curriculums that can get children of all ages learning and growing! To learn more, visit our website or give us a call today!