Responding to a Defiant Toddler in Preschool
Beginning at about 18 months, your child begins to realize that they can have some control in their lives, mainly by defying what you ask them to do. The word "No" becomes their favorite thing to say. Their motivation to do things for themselves is wonderful, but there are ways to show your child that they can be in control while making choices in positive ways, whether at home or in preschool in Greenville, NC.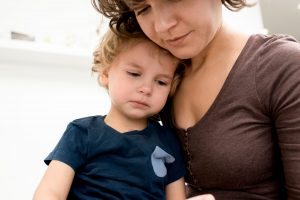 Prevention
You can probably think of many situations in which your child is likely to attempt to defy you. The key is to come up with ways to work around it. Perhaps getting dressed in the morning is a big battle; set out two different outfits and let your child choose, giving them a way to feel as if they are in control. If there is a repeated defiance, such as no dresses or purple socks only, make that a part of the plan. 
Transitions can be difficult for many children, but there are ways to make these times easier as well. For example, give your child a warning before moving on to something else. For daily routines, create posters to show the steps so they know what to expect each and every day. Older toddlers can be given more specific cues, like "Five more minutes on the swings before it's time to go." Be sure to follow through, as it will teach your child that you mean what you say.
Be Empathetic
As parents, it can feel easier to ignore a tantrum and skip right to the discipline, but acknowledging an upset child's feelings first will let them know that their feelings and opinions matter. Even if they are upset over something silly, say something along the lines of "I understand you are upset that _____." If you ignore their emotions, many times they will get louder to show how upset they are. Your validation will help them calm down. 
Set Limits
When it is time for your child to do something you asked them to do, use short, clear language that they can easily understand. Use humor and imagination to diffuse the situation. For example, at bedtime, "Your teddy bear is so sleepy. Let's go read him a book together so he can go to sleep." If these strategies are not quite working, calmly but firmly set the limit. "You can choose a book and get into bed or I can choose for you." If the child resists, calmly choose a book yourself and get them into bed. In a soothing voice, say something like, "I know it's hard to go from playtime to bedtime, but getting a good night's rest will give you energy to play tomorrow." Avoid giving in to tantrums, as the child will begin to recognize that if they push hard enough, they will get what they want.
Pick Your Battles
If you can sense a tantrum coming, consider the limit you are going to set so you don't change your mind in the middle of the battle. For example, if your child is arguing with you about the shirt they are going to wear that day, it may not be a battle worth having. Rather than enforcing right away, take a few seconds to consider whether this is a limit that really needs to be set. 
Children's World
At Children's World Learning Center, we know that the early years of life matter because early experiences affect the brain. As a child's brain grows, the quality of the experiences that a child has creates either a sturdy or fragile foundation for all of the development and behaviors that follow. Parents want to make educated choices for their families, and getting things right the first time at preschool in Greenville, NC is better than trying to fix them later. Contact us today!