Making Holiday Travel Easy
The holidays are a time for visiting family and friends that you don't see often. Whether you are planning a long drive or a flight across the states, traveling during the holidays is never a simple task. There will always be traffic on the roads and airports are likely to be crowded. The most important thing to do is to keep calm so you can enjoy your holiday. Here's what to do: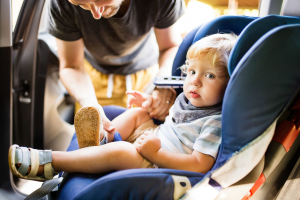 Involve the Family
Get your children excited for the long trip by including them in the planning. If you involve them in the planning process, they will feel more invested in the trip. Give them small, simple tasks to contribute, such as letting your oldest find a movie theater nearby and letting your toddler choose the books to bring along for the trip.
Talk It Over
Once you have gathered all the details and have a good idea of what will be going on during the trip, tell the family what you have planned. Kids feel more secure when they know what to expect, and it will also give them things to look forward to. Warn them about things that may be new and scary, like the security check at airports if it is their first flight.
Childproof
If you will be staying with a friend or family member over the holidays, talk to them about storing cleaning products, medications, and other hazards out of reach of your young ones. If you will be staying at a hotel, call ahead of time to ask whether the staff will childproof the room for you. You can even take a travel childproofing kit along with you, or a roll of duct tape to cover outlets, cords, and secure bathroom cabinets.
Pack in Plastic
Living out of a suitcase is never enjoyable. Keep things organized for your kids' clothing by separating them into clear zip-loc bags and labeling them with names and contents, like Sam's shirts or Allie's dresses. For even more convenience, plan outfits ahead of time and put each outfit in its own zip-loc bag, labeling them by day. This will save you the headache of trying to match items and dig through bags.
Snacks
Have a supply of travel foods such as string cheese, Cheerios, or dried fruits with you at all times during holiday travel. If your child doesn't like the food on the plane, at the party, or gets fussy during the car ride, snacks are a great way to prevent a tantrum from a hungry toddler.
Children's World
At Children's World Learning Center, we know that the early years of life matter because early experiences affect the brain. As a child's brain grows, the quality of the experiences that a child has creates either a sturdy or fragile foundation for all of the development and behaviors that follow. Parents want to make educated choices for their families, and getting things right the first time is better than trying to fix them later. Contact us today!