How to Choose Toys for Children
Christmas will be here before you know it, so how do you choose which gifts are right for your child? You may think that choosing toys for children should be simple, but there is such a huge variety of toys on the shelves these days that it can be overwhelming. Here are some ideas on how to choose toys that will grow with your children, challenge them, and nurture their overall development: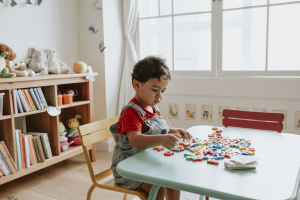 Open-Ended Toys
Toddlers love to play with toys that they can take apart, put back together, and pull in and out. Toys that are "open-ended" can be played with in many different ways, allowing kids' imaginations to run free. A good example of an open-ended toy is interlocking blocks. They can be used to make a bridge, a spaceship, a road, etc. Nesting blocks or cups and toys for sand/water play are also good options. Toys such as these are great for helping children develop problem-solving and logical thinking skills. 
Timeless Toys
There are always those toys that children play with for a few days and then never touch them again. Look for toys that can be used at different developmental stages. These toys could be anything such as small plastic animals, dollhouses, dump trucks, stuffed animals, etc. These are items that can be used for years during the toddler stage.
Problem Solving & Creativity
Toys that give children a chance to figure things out on their own, or with a little help, build their logical thinking skills and problem-solving skills. This may include puzzles, shape sorters, and blocks. Art materials like paint, clay, or crayons encourage exploration and creativity. These types of toys also help children understand how things fit together, hand-eye coordination, and fine motor skills.
Real-Life Play
During the toddler stage, children are beginning to figure out how things work and want to play with real things, like your cell phone. "Real-life" toys like plastic food and dishes, toy phones, dress-up clothes, and child-sized cleaning tools help children develop fine motor skills as well as problem-solving skills. 
Children's World
At Children's World Learning Center, we know that the early years of life matter because early experiences affect the brain. As a child's brain grows, the quality of the experiences that a child has creates either a sturdy or fragile foundation for all of the development and behaviors that follow. Parents want to make educated choices for their families, and getting things right the first time is better than trying to fix them later. Contact us today!