How to Choose the Right Swim Lessons for Your Child
According to the American Academy of Pediatrics (AAP), the best time for children to start swim lessons is between the ages of 1 to 4. Children develop emotional maturity, physical and developmental abilities, and limitations at different rates. Children's World Learning Center believes parents and their pediatricians can best determine the age children should begin lessons.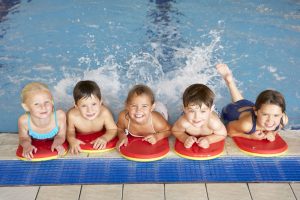 Baby Steps
As a layer of protection, the AAP recommends starting swimming lessons at one year old. Infant swim classes under the age of one have no evidence of lowering drowning risk, but children's comfort level in the water can take time, so it is recommended to start early. In order to increase the toddler's level of comfortability, Children's World Learning Center recommends starting off with classes that include both parents and children. Children should feel safe and secure during lessons, with activities that support their social, intellectual, physical, and emotional development. Once your child is comfortable, lessons can begin.
Must Haves
Factors to consider in a swim program include touch supervision, water purification, and water temperature. Whenever children are in or around water, an adult should always be within arm's reach to provide touch supervision. Parent participation is encouraged in group lessons, but if you prefer to stay out of the water, Children's World Learning Center recommends one-on-one lessons. Water purification is essential for toddlers as they are more likely to swallow or breathe in the water. A good facility will maintain proper chlorine levels and water disinfection. Water temperature should also be monitored to maintain warmth at about 87 to 94 degrees Fahrenheit for toddler classes as they are at a higher risk of hypothermia.
Costs
Swim lessons vary in prices based on group size, facility, location, and more. Private, one-on-one classes tend to cost more than group classes. If you're worried your family cannot afford swim lessons, check with your city government. Many towns have scholarship programs that help cover the cost of swim lessons held at public pools. Reach out to qualified instructors about possible payment plans or scholarship options.
Children's World
Children's World Learning Center recommends prioritizing water safety with the use of swim lessons. Like you, we prioritize and value your child's safety too, and the early years of life affect the brain the most. We strive to educate children on safety skills out of the water and more. For more information on toddler water safety, check out our blog!