Cooking Up Fun In The Kitchen At All Ages
Cooking is fun for everyone, especially kids. Regardless of a child's size, age, academic abilities, and special needs, there is something that everyone to do to pitch in when it comes to prepping, cooking, and cleaning up in the kitchen. Cooking using a recipe is an activity that not only encourages kids to read, follow directions, learn about sequencing, and telling time, but it also encourages important life skills like being able to cook, provide meals for yourself, and clean up your mess when finished – just a few responsibilities that can be mastered at a young age and used forever. Children's World Learning Center child care Greenville NC doesn't have to be the only place where your children are free to learn the necessary trades of life – they can do so in your kitchen too!
1 – 2 Years Old 
These simple minds enjoy the most simple tasks in the kitchen. For example, counting ingredients, sorting, collecting, finding or putting away bowls and utensils, washing fruit or veggies, adding ingredients to a mixing bowl, and throwing away trash. Be patient with these mini chefs as their developing motor skills could make these tasks seem more difficult than they are, but they are learning and spending time with you, which is what matters the most!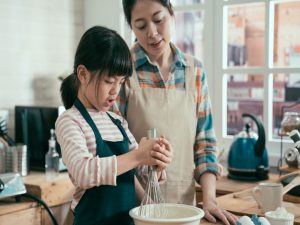 3 – 5 Years Old
On top of everything mentioned above, little chefs that are ages 3 – 5 can start to mash, whisk, roll, stir, and even use an electric hand mixer with your assistance. Spreading butter or icing is also a fun task at this age, but keep in mind that it might turn a little messy, which is half the fun. Kneading and rolling the dough out, followed by using cookie cutters to bake and decorate cookies is a fun activity as well that can be completed from start to finish by your little ones! They can share their creative homemade baked goods with family and friends, or take them to Children's World Learning Center child care Greenville NC to share with their teachers and classmates.
6-8 Years Old
At this age, your young chefs can start grating cheese, dicing up and peeling veggies, slicing and scooping out avocados, and measuring ingredients out for you. This age group usually has developed fine motor skills so they can take on more adult tasks. However, they may still need reminders to watch their fingers when using a knife to make sure they avoid accidents and getting hurt.
Children's World Learning Center – Child Care Greenville NC
Cooking in the kitchen with your little loved ones can be fun and an all-around great bonding experience for everyone involved. Keep the learning going from their classrooms at Children's World Learning Center child care Greenville NC, straight to your kitchen at home! Happy cooking!